Once you've made this creamy and delicious homemade yogurt, you'll never want to go back to the store bought version! If you don't own an Instant Pot or you don't have a yogurt button on yours, you can follow the alternate instructions below.
Truth be told, it took me a while to get up the courage to make my own homemade yogurt. After all, it was hard to believe that the creaminess and consistency of store bought yogurt could even be reproduced at home. I thought for sure you must need some sort of huge, magic yogurt making machine to pull that off.
But the more research I did, I realized that the magic is actually in the microbes. Crazy as sounds, all you need to make perfect, rich and creamy yogurt are two ingredients: milk, and a few tablespoons of store bought yogurt. Once you've made one batch, you can then use your own homemade yogurt as a starter for the next batch, and the next batch, and... you get the idea here.
Just doing the simple math, I was hooked. My favorite organic store bought yogurt costs $6.99 for a 24 oz container, or $1.75 for a 6 oz serving. That may be fine for a once in a while treat, but for me that's far too expensive to have on hand all the time. Instead, this recipe makes a whopping half gallon of yogurt for $3.79. (I am basing that on the local price of a half gallon of whole milk--your cost may be slightly less or more depending on the milk you choose.) That comes out to only $0.35 for a 6 oz serving, a savings of 80% over store bought!
Ingredients you'll need
So as mentioned, you literally only need two ingredients for this recipe:
A half-gallon of milk (see note below)
3 tablespoons regular yogurt or Greek yogurt (either store bought, or just use some of your homemade yogurt if you've already made this recipe and want to make another batch)
Note: You'll want to be kind of picky with the type of milk you choose for this homemade yogurt. Whole milk will make the creamiest yogurt, but 2% or even 1% could also work. (I would avoid skim milk to achieve optimal results.) More importantly, make sure to choose a brand that isn't "ultra-pasteurized" -- just look for a pasteurized option instead. I have tried both and unfortunately the ultra-pasteurized versions just don't work well.
Equipment you'll need
To make this recipe as written, you'll need an Instant Pot cooker--but that's not 100% essential if you like to DIY and don't own an Instant Pot. I've given directions for both options below in case you don't have one and still want to make delicious homemade yogurt. If you do choose to make yogurt without an Instant Pot, you'll need a soup pot instead.
Additionally, you'll want to have a couple of quart-sized mason jars with lids to store the yogurt in (wide mouth jars are easiest), and a measuring cup to incorporate the yogurt cultures.
And lastly, you'll need a silicone spatula and a food thermometer. Thermometers for yogurt making are inexpensive if you don't have one (no more than $10 or so); just look for one that advertises that it's good for making coffee drinks/espresso and that should do the job perfectly.
FYI if you don't have a yogurt button on your Instant Pot: Since it's a bit trickier to get consistent results tying to make Instant Pot without a yogurt program, I'd recommend following the instructions that accompany this recipe for using a regular pot on the stove and fermenting your yogurt in a warm area. It takes a little more effort to get the ferment timing just right, but the results are just as good once you do.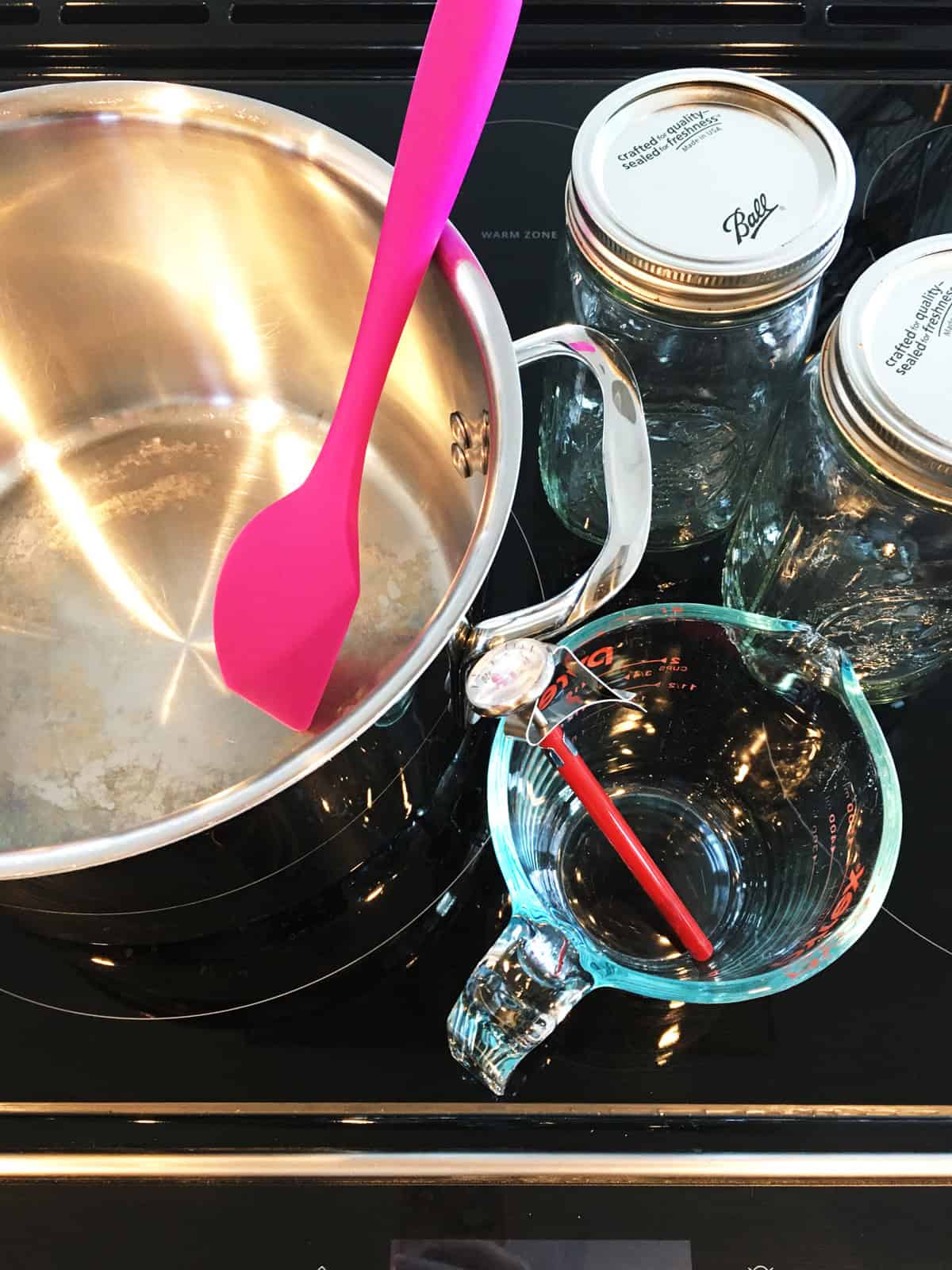 How to make Instant Pot yogurt
Before you get started on your yogurt-making expedition, you should know that the time it takes to make the yogurt from start to finish is about 6 ½ hours, or perhaps a bit longer depending on how tart you like your yogurt.
This is not to say you'll be in the kitchen all day! The prep and setup is pretty quick, under 30 minutes, but the time it takes to culture your yogurt in the Instant Pot is at least 6 hours.
I just wanted to make this clear at the outset, so that you don't start your recipe later in the day and have to be up all night until it finishes up. Just plan accordingly and you'll be all set. 🙂
Step 1: Boil the milk
First, pour all of the milk into your Instant Pot--it should still be turned off at this point. Then, place the lid on in the Venting (non-pressure cooking) position. For those making yogurt without an Instant Pot, go ahead and pour the milk into your soup pot instead; no pot cover is required for this step.
Next, press the "Yogurt" button on your Instant Pot and press a couple more times or until you see the "More" mode show on the display. After about ten seconds, you'll hear a few beeps and the display will then show "boil" while your milk heats up to temperature.
Once the boil mode is complete, the Instant Pot will beep again and display "Yogt" instead of boil. This process takes about 20 minutes or so.
Open up the Instant Pot and test the temperature of the milk with your thermometer--it should be right around 180 degrees F.
Why is this initial heating step important?
First, it'll naturally pasteurize your milk in order to kill any harmful bacteria; this is particularly important if you're using raw milk from a local farm. And second (and trust me on this one), it'll make your yogurt SO much more creamy in the end and actually more digestible as it denatures the milk proteins at this temperature.
If you're making yogurt without an Instant Pot, simply heat your milk slowly on the stove until it reaches 180 degrees F.
Next, you'll need to take the inner pot out of your Instant Pot (careful, as it will be hot) and cool the milk temperature down to 110 degrees F.
Pro Tip: You can let the inner pot sit on a wire rack until it cools down to temperature, but my preferred method is to place the inner pot into a larger pot (or kitchen sink) of ice water to achieve the temperature much more quickly.
For non-Instant Pot yogurt making, use the same process as above for your milk that's been heated on the stove.
Step 2: Add the yogurt cultures
This step is quick and easy. First, use a soup ladle to transfer about a cup of milk out of your pot into a glass measuring cup.
Then, add 3 tablespoons of your store-bought yogurt (or homemade yogurt if you have some already made) and incorporate into the cup of milk.
Once you've incorporated the cultures, add this mixture back into the rest of the milk and gently incorporate again using a silicone spatula.
Step 3: Ferment your yogurt
Place the inner pot containing your incorporated milk and yogurt cultures back into the Instant Pot and close the lid, again in venting position.
Press the yogurt button and then use the plus/minus buttons to set the fermentation time. The Instant Pot default time is usually six hours, and that works out perfectly for me as I like my yogurt to be tart but not too tart. If you do prefer a tarter yogurt, go ahead and adjust the time anywhere from six up to eight hours.
If this is your first time making Instant Pot yogurt, I'd recommend sticking with six hours at first. You can always taste-test it and set a little extra time on the Instant Pot if you'd like a stronger tartness before you refrigerate it.
If you're fermenting yogurt without an Instant Pot, there are a couple ways to do this but you'll have to experiment a little to find the optimal way for your kitchen. First, cover the pot you used to incorporate the milk and cultures, and then either leave it for 6-8 hours on the top of your refrigerator or in the oven with the oven light on. The idea is to keep it just warm enough to ferment slowly. You'll have to taste test it after six hours and see if it's to your liking; for more tartness, continue fermenting.
Once the Instant Pot is done fermenting, it'll beep and display "Yogt" once again. Your creamy, delicious homemade yogurt is done!
At this point you can simply transfer it into your two mason jars and refrigerate it--and don't forget to save a few tablespoons of yogurt to make your next batch of yogurt!
Prefer Greek yogurt instead of, or in addition to regular yogurt? Read on... 😉
Greek yogurt is just as easy
So you've successfully made a batch of delicious homemade yogurt. Woohoo, congrats! If you'd like to turn that into Greek yogurt, you're 95% of the way there--just one more step is required which is to strain the yogurt.
For this step, you'll need a colander, a glass bowl and some cheesecloth. I like to make a double layer of cheesecloth and then line the colander with it. Next, place the colander into a glass bowl which will collect the whey (the liquid part of the yogurt) as it strains. And finally, slowly pour in your freshly made yogurt and let the yogurt strain overnight in the refrigerator. In the morning, you'll have Greek yogurt waiting for you.
Tip #1: You can use as much of your Instant Pot yogurt to make Greek yogurt as you'd like. Often, I'll strain half and leave the other half as regular yogurt--this makes one quart of regular yogurt, one pint of Greek yogurt and one pint of whey.
Tip #2: If you do make Greek yogurt, be sure to save the strained whey as well! You can use it for extra nutrition in smoothies or for lightly fermenting grains such as oats overnight to make them much more digestible in the morning.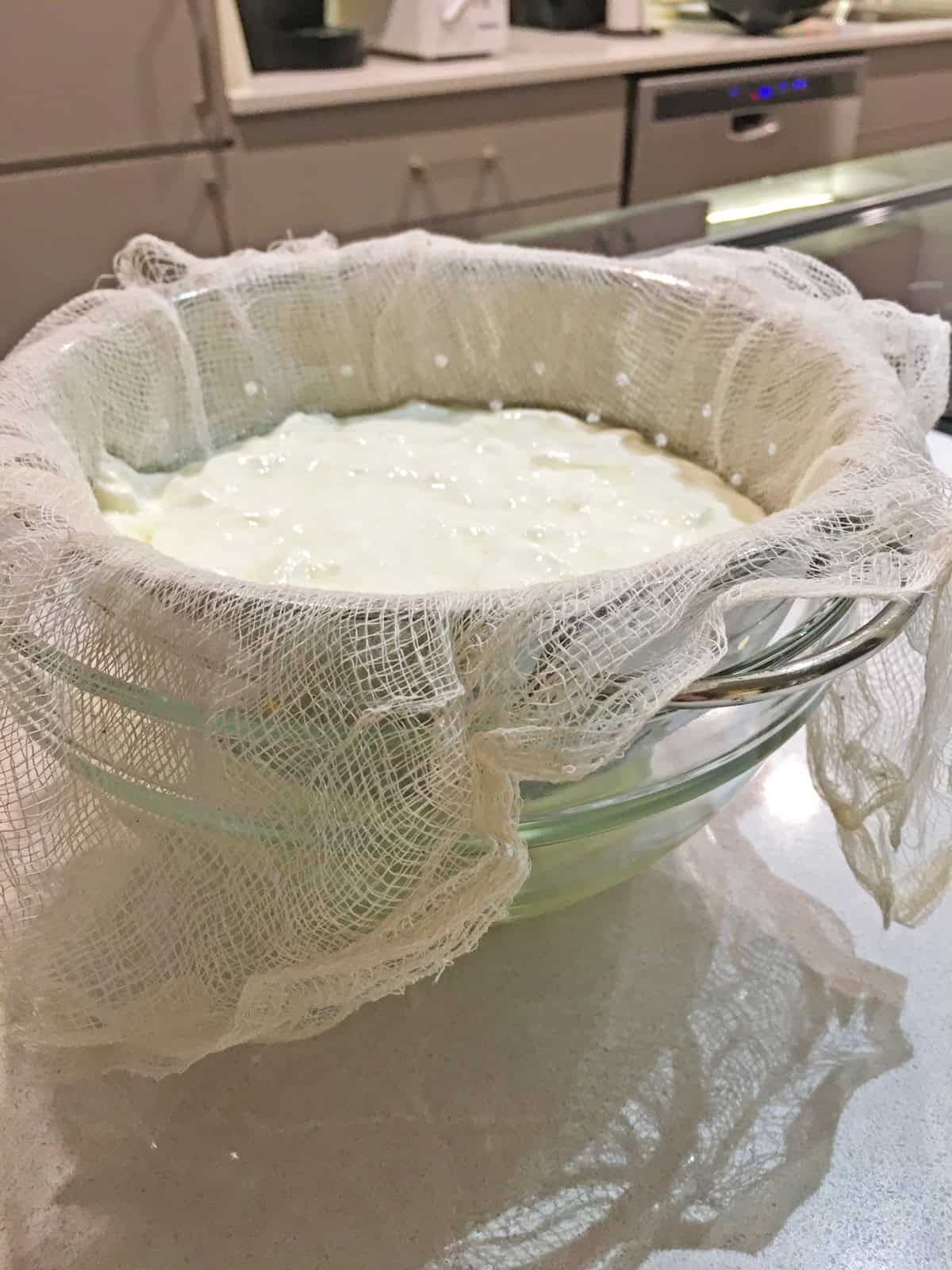 Bonus recipe: Homemade Strawberry Yogurt
The possibilities are endless for your fresh homemade yogurt. During the summertime, I love to incorporate local fruits and honey into it. I used fresh strawberries for this batch but the method can be used for all kinds of fruits like fresh blueberries, raspberries, peaches, etc.
Chop up about 2 cups of strawberries per quart of yogurt, or more or less based on preference. Add a tablespoon of fresh honey and use a potato masher to gently crush the berries and incorporate the honey.
Then, simply fold the fruit mixture into your yogurt and serve or store in the fridge. You will NOT believe how delicious fresh yogurt with fresh fruit is if you've never tried it. Enjoy! 🙂
You might also like:
Print
Instant Pot Yogurt
Author:

Allison Campbell

Prep Time:

30 minutes

Cook Time:

6 hours

Total Time:

6 hours 30 minutes

Yield:

10

servings

1

x

Category:

Breakfast & Brunch

Method:

Instant Pot

Cuisine:

American

Diet:

Gluten Free
---
Description
This deliciously creamy and healthy homemade Instant Pot yogurt requires only two ingredients to make, and it's practically foolproof.
---
A half-gallon of milk (see notes)

3 tablespoons

yogurt or Greek yogurt (see notes)
If you'd like to make strawberry yogurt (optional):
2 cups

chopped fresh strawberries or other fruit

1 tablespoon

honey
Equipment you'll need:
Instant Pot cooker (or follow the alternate instructions below if you don't have one)

2 quart

-sized mason jars with lids
food thermometer (such as one used for making coffee/espresso)
Additional equipment you'll need if you're making Greek yogurt:
---
---
Notes
Whole milk that is not "ultra-pasteurized" works best--just look for "pasteurized" milk instead.
You can use store bought yogurt if this is your first batch, or just use some of your homemade yogurt if you've already made this recipe and want to make another batch.
Keywords: homemade yogurt, how to make yogurt